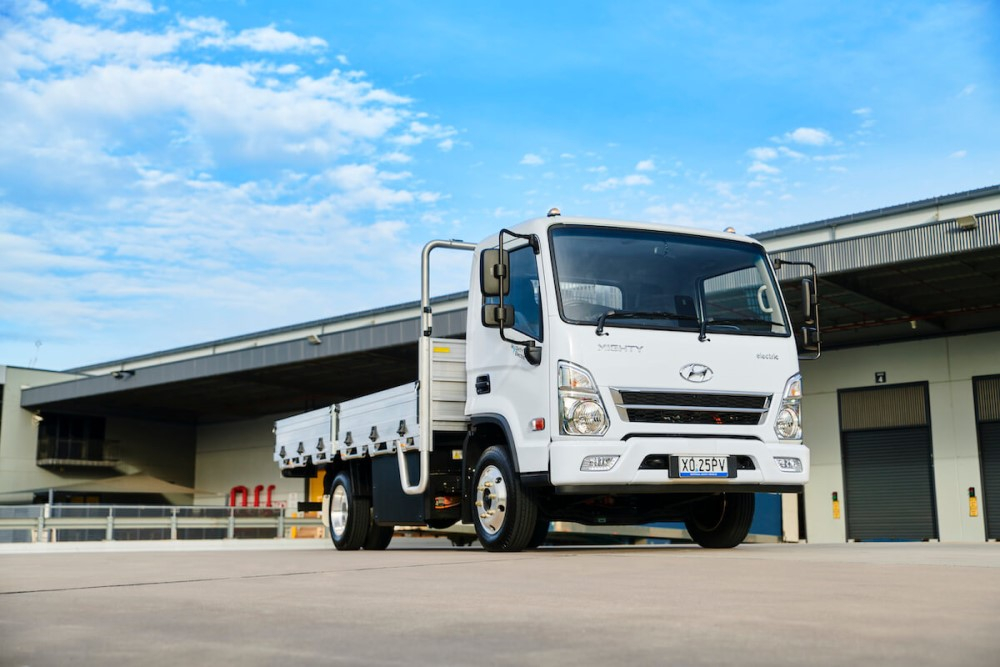 EV Hyundai truck with 200km range launched
HYUNDAI has joined the electric truck market with the launch this month of its Mighty Electric 7.3-tonne GVM cab-chassis and the promise of a pantech version in coming months.
The Mighty, made by Hyundai in China, is priced from $150,000 plus government charges and on road costs.
The cab-chassis model has the option of a Hyundai genuine accessories alloy tray —measuring 4200mm by 2353mm — at additional cost to be fitted at dealerships. Buyers can also fit their own bodies.Hyundai said the launch of the Mighty offers buyers an ideal ready-to-go solution for customers looking for a versatile, zero tailpipe emissions truck.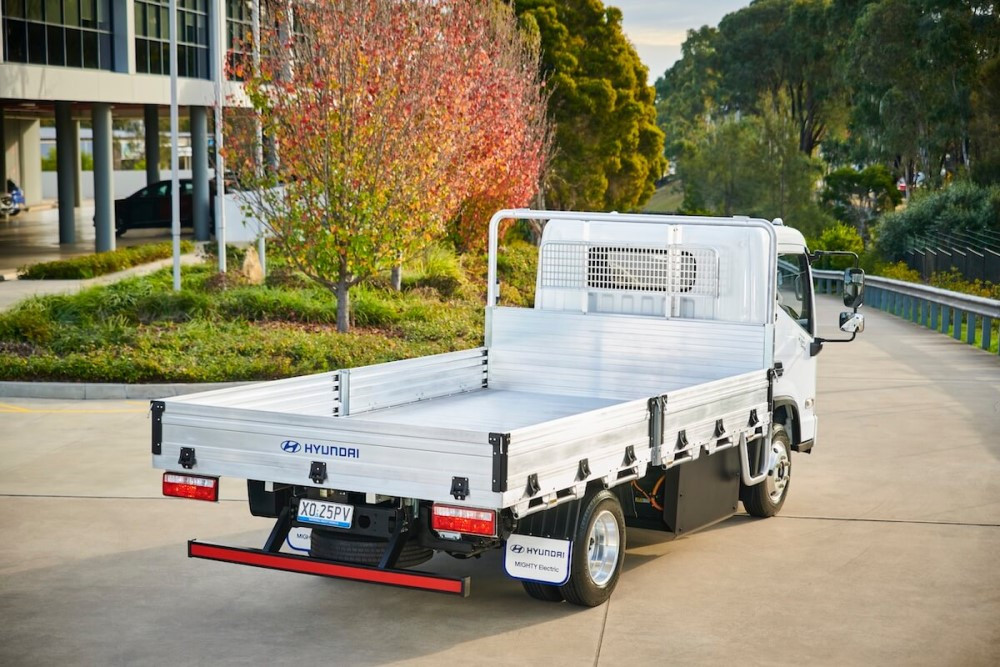 It has a permanent magnet synchronous motor generating 120kW of power and 320Nm of torque. Drive is to the rear axle via a single-speed reduction gear turning a propellor shaft. Final drive ratio is 5.375:1.
The EV truck has a maximum speed of 100km/h, which is more than some EV trucks and makes motorway driving a safer and easier experience.
It comes standard with a 114.5kWh capacity lithium (LFP) battery pack that Hyundai claims gives a range of up to 200km when loaded to the maximum GVM of 7300kg.
Hyundai tested this range with a tray body configuration with air conditioning turned on, while driving in typical Australian urban conditions.
It can be recharged with up to 6.6kW of AC power or 100kW of 800V DC fast-charging power using a CCS 2 combo charging port.
This gives it a charge rate of from 8 per cent to 100 per cent in about 70 minutes which Hyundai said was about the length of a good lunch break.
For faster turnarounds, a 20-minute fast charge during an unloading stop could add around 100km of range.
The truck is 6140mm long and sits on a 3300mm wheelbase and has an available 4050kg payload (less the weight of a fitted body), and a GVM of 7300kg.
Hyundai offers a five-year/200,000km vehicle warranty and eight-year/400,000km battery warranty.
Servicing intervals are at 12 months or 20,000km (whichever comes first) and service pricing has been calculated out to 12 years/240,000km. Standard scheduled servicing costs for the first five years/100,000km amount to less than $4300.
Hyundai Motor Company Australia's chief operating officer John Kett said that the Mighty Electric truck is ideal for last mile or back-to-base light-duty commercial operations "or for businesses wanting to reduce their driving emissions."
"The Mighty Electric is best suited to urban environments, with its zero driving emissions, a quiet electric motor and high energy efficiency at lower speeds."
"The smoothness and quietness of operation will help reduce driver fatigue and enhance road safety."
Mr Kett said that when Hyundai previewed the truck at the Brisbane Truck Show in May, the company was overwhelmed by the level of serious interest in the vehicle.
"They were also encouraged that a well-known OEM such as Hyundai Motor Company Australia was moving into this market," he said.
"There is no doubt that the era of zero driving emission commercial vehicles is upon us, and that Hyundai Motor Company Australia will deliver to customers a real-world, commercially viable product that meets their needs and aspirations."
The Mighty Electric is fitted with driving features to optimise driving efficiency and make the driving experience as pleasant and safe as possible.
Two-stage regenerative braking allows it to recover up to 33 per cent of braking energy by lifting off the accelerator pedal.
Stage 1 regenerative braking provides up to 0.07g of decelerative force, while the stronger stage 2 generates up to 0.14g. The front and rear drum service brakes are air actuated.
The truck also features an ECO mode which reduces electricity consumption by limiting power output, a helpful feature that maximises range for longer drives where full power is not required.
When the battery charge depletes, the battery management system intelligently works to help the truck reach its destination for charging.
Hyundai said that while the Mighty Electric is a light-duty truck, it is not light-on for comfort or safety features.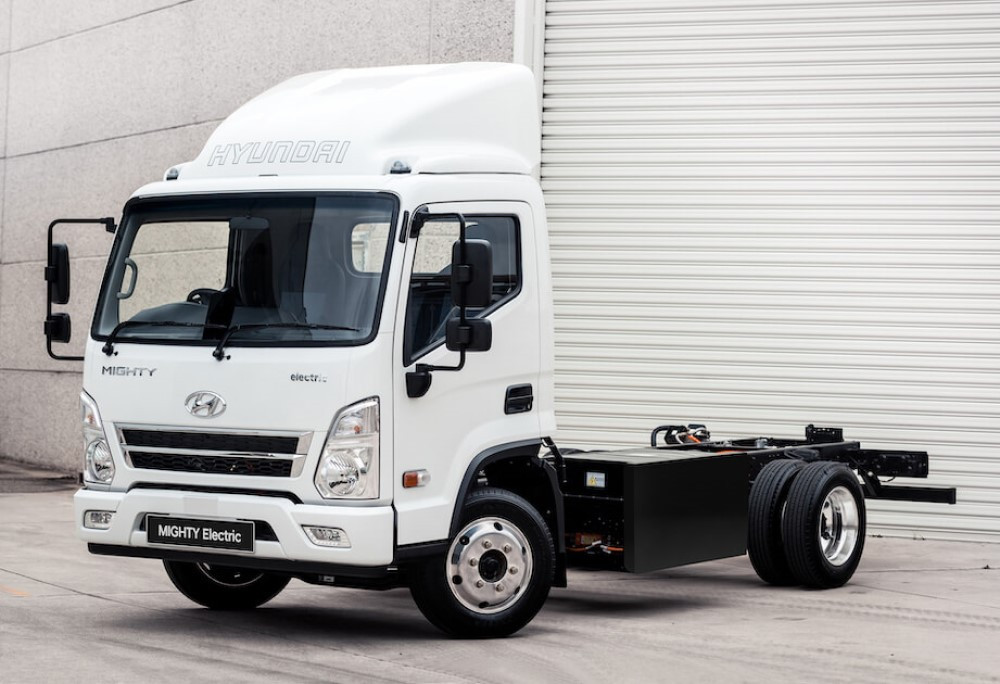 It has a list of standard equipment including auto dusk-sensing headlamps, LED DRLs, heated exterior mirrors, forward collision avoidance camera and radar, and a lane-keep assist system.
There's also electro-hydraulic power steering, backed by a tilt and telescopically adjustable column, and a suspension seat for the driver, along with rotary shift-by-wire transmission control, and 24V power outlets and storage binnacles.
Other features include cruise control, a 7-inch colour instrument cluster information screen directly in the driver's line of view, plus a centrally mounted 7-inch display touchscreen infotainment centre, with rear view camera display.
Standard is Hyundai's SmartSense inventory of Advanced Driver Assistance Systems (ADAS) designed to significantly reduce the likelihood of accidents and serious injury.
This includes a high-tech forward collision-avoidance assist system using both the forward-facing camera and radar to detect cars and pedestrians ahead and apply emergency braking to prevent a collision.
Additionally, lane-departure warning uses the forward-facing camera to detect when the vehicle unintentionally leaves its lane and provides the driver with a warning to maintain safe driving.
Further safety systems include dual front airbags, hill start assist, traction control and the very handy rear view camera.
At launch, the Hyundai Mighty Electric will be available in Creamy White or Hyper Silver exterior colours, both paired with a hard-wearing grey cloth interior.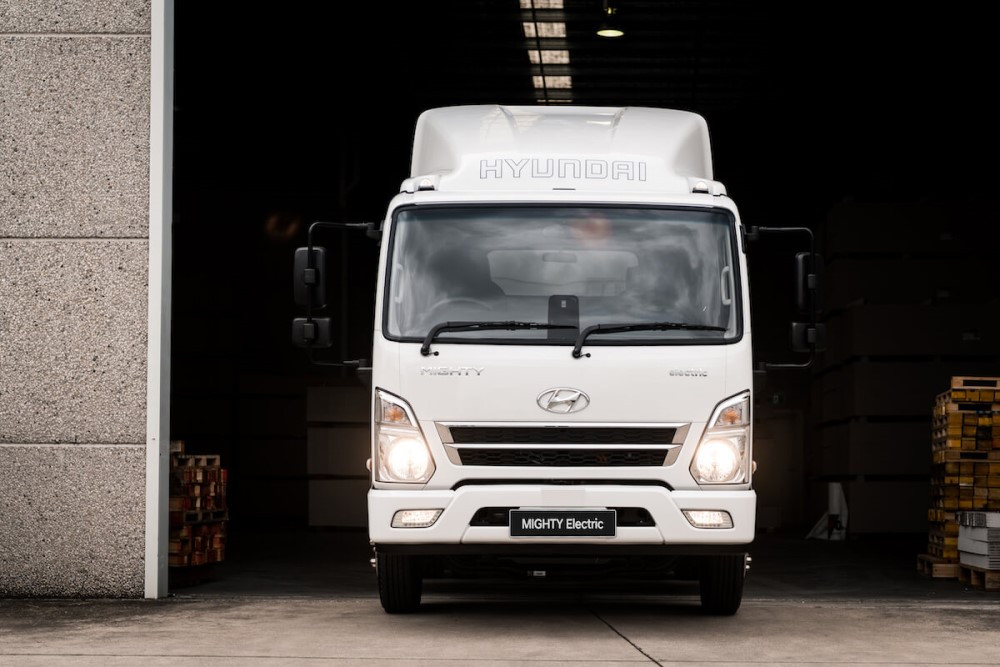 It is available at two dealerships in the eastern region — Peninsula Hyundai Truck and Buss; and Adtrans Hyundai Trucks; Adtrans Hyundai Trucks for Tasmania and Victoria; Hyundai Truck Centre Canberra; WA Hyundai Trucks; and Gold Coast Hyundai Tucks.

Finance your next truck through Credit One, Australia's best rated finance broker - Get Your Free Quote