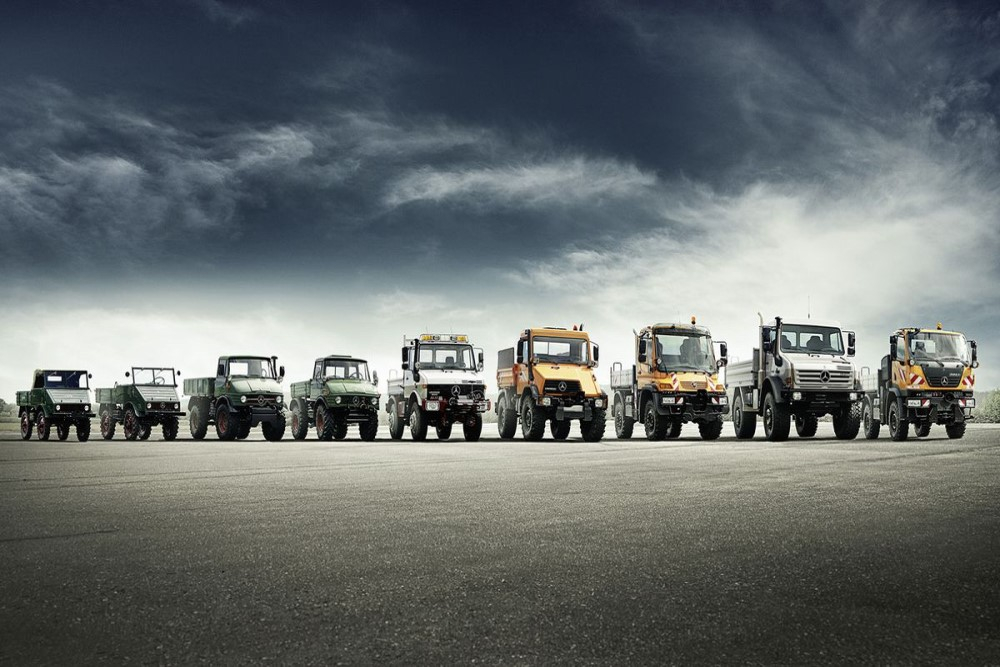 77 Years and Unimog is Still The One
CONVERSATIONS about 4x4 vehicles end with this vehicle. The Unimog is the last word in offroading, durability and toughness and nothing comes close to its off-road prowess and dominating on-road presence.
Despite being born 77 years ago, it still has no peers. And Mercedes-Benz, who bought the Unimog — UNIversal MOtor Gerat (machine) — from manufacturer Boeringer and founders Erhard und Sohne (Erhard and Sons) in 1950, four years after it was launched, has retained the unparalleled competency and appeal.
The Unimog was originally designed along similar themes to the Land Rover (which started in 1948), aimed at the farmer as a multi-purpose vehicle for the field and the road and with an array of power-takeoff attachments to suit the farmers' needs. Reflective of its target market, the Unimog's track was 1270mm, perfectly straddling two potato rows.
Like the evolution of the Land Rover, Mercedes-Benz kept the Unimog's core DNA intact. It remains an incredibly versatile machine designed to operate in extreme conditions — including sub-zero, deserts, mountains and swamplands — and targeted at extreme workplaces — forestry, mining, exploration, fire-fighting, medical and military.
Much of its versatility reflects its design principles of an all-wheel-drive system, front and rear portal axles and differential locks, a very high ground clearance, high operator position, short front and rear overhangs with an above-engine cabin, and a high payload and tow rating.
Its power takeoff function also gave it a long list of accessory implements for a myriad of tasks from clearing snow from roads, water pumps for fire-fighting, operating lift hoists, and so on.
There are also a series of Unimogs designed for different tasks, including seven-seaters, pantech bodies, tilt-trays and ute backs.
In Australia, the NSW State Emergency Service (SES) operates six Unimog U4023 models, with a GVM from 14-tonnes, which more recently have been seen in action in the NSW.
These Unimogs are ideal in disaster situations because the rescue team does not have to compromise on payload. The double cab version holds up to six passengers and the flatbeds also carry heavy equipment that is essential for disaster relief.
Mercedes-Benz Trucks Australia Pacific director Andrew Assimo said that it was particularly rewarding for his company that the NSW SES had chosen the Unimog U 4023 for disaster relief.
In addition to its listed specifications, the Unimog's ability to handle extreme situations as seen in relief work is also attributed to a fording depth of 1200mm.
It's portal axles create extra clearance under the vehicle to help tackle challenging terrain so complemented by the all-wheel drive and differential locks at the front and rear, it can shovel its way out of muddy ground.
The tyre pressure of the 365/85 tyres in 20-inch format can be adjusted depending on the condition of the ground. Rescue teams can easily control it via the Tyre Pressure Control System.
Independent coil springs on all four wheels provide flexible manoeuvrability when entangled on uneven terrain.
Then there the Unimog U4023's transmission with transfer case that allows a total of 16 forward and 14 reverse gears that can be operated fully automatically.
Otherwise, the driver has a special fold-out clutch pedal. At low speeds or on slippery surfaces, traction can be assisted with a more delicate control of the clutch.
It has an approach angle of a huge 44-degrees, a ramp-over angle of 30-degrees and a departure angle of 51-degrees.
It also has a (very) wide turning circle of 16.6m. Mercedes-Benz doesn't publish fuel consumption figures but having a 235-litre fuel tank probably gives you an idea.
Like the original Unimog, the latest series Unimogs used Mercedes-Benz drivetrains. The U4023 has Mercedes' OM 934 four-cylinder turbo-diesel engine — delivering 170kW/900Nm — provides the Unimog with sufficient power for a dynamic start during emergency operations. The engine also complies with the latest Euro-6 emissions standard.
Mercedes-Benz Australia Pacifica said that the SES Unimog were initially equipped with standard platforms so that they could be put into action as quickly as possible.
The top priority for the SES is rescuing people from dangerous situations and providing logistical support to isolated communities – the standard platform is sufficient for both scenarios.
"Further upgrades for the units are in the pipeline, for example the fitting of a crane," Mercedes said.
"And a special flood rescue module that includes an inflatable lifeboat and other special features for flood operations."
The SES uses the standard hydraulic pump of the Unimog U4023 for cranes and hydraulic winches at both ends of the vehicle. The equipment can be quickly attached using the hydraulic quick-couplers at the front and rear when time is of the essence.
And the price? Unimogs, which are hand made in Germany, cost from $225,000 in Australia for the single-cab cab-chassis version, without the great gear such as the automatic tyre air pressure system.
Finance your next truck through Credit One, Australia's best rated finance broker - Get Your Free Quote